GeekHub
Enterprise Operations Automation Platform
GeekHub is KindGeek project. In a nutshell, it is a simple solution that provides full control over internal business processes and grants smooth scaling of a company. GeekHub is an end-to-end process automation tool that combines all instruments you need to operate internal processes of a company in a single neat digital package .
About Project
Web
PLATFORM
Ukraine
COUNTRY
SaaS
INDUSTRY
In Progress
PROJECT DURATION
10 Members
SIZE OF TEAM
In Progress
COMPLETED
Technologies & Tools

Typescript

Java

NodeJS

AngularJS

Java Spring

RXJava

Bootstrap

Hibernate

MySQL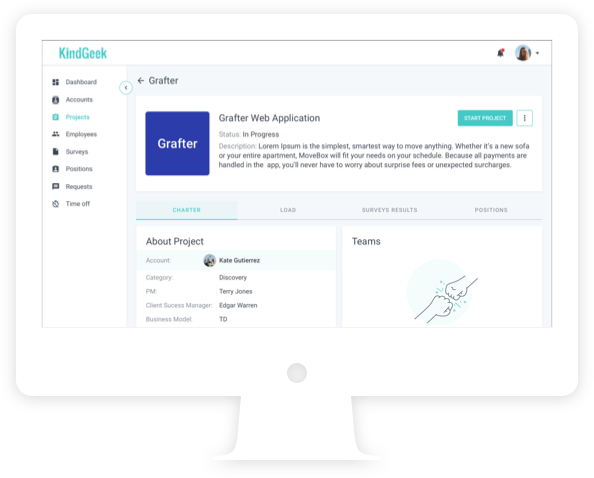 Challenges and Objectives
GeekHub is an extremely complex system that combines a huge variety of different tools for managing employees workload, day offs, projects, payrolls, budgets and contracts, creating and viewing reports, and monitoring employees retention. Combining all the tools into a single web application and ensuring that all them blend together well and complement each other without disrupting the smooth flow of the UX was definitely the biggest challenge during the development of the system.
Therefore, integration testing was vital for geekhub. QA helped us ensure that all gears of the web product are "well-oiled" and deliver the value they are meant to deliver.
Besides the mentioned above, our developers had another obstacle to overcome. They had to create back end logic that would handle all the data and request with ease without hindering GeekHub's productivity.
Finally, developing intuitive UI/UX with easy to navigate structure for such a complex system was quite a feat of designing prowess too.
Results
Depending on a user's role, GeekHub allows to:
Control employees workload.

Manage teams considering budgets and contracts.

Track projects progress and determine their weak points.

Create and view employees profiles, manage their payrolls.

Request and manage time-offs.

Control people retention by bringing the best practices of people review and appraisal process.

Track all reports and documentation at one desk.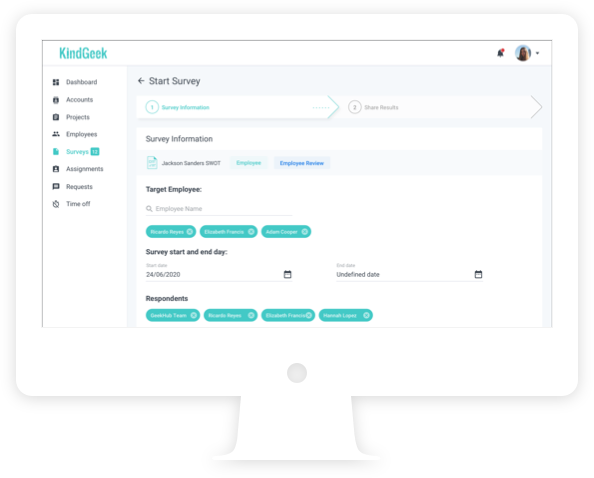 Review more our projects in SaaS industry
Contact Us
Contact Information

Lviv
79018 45 Oleny Stepanivny Str.
info@kindgeek.com
+380974652244

London