Mitwelt
Germany Social Media app
The main purpose of Mitwelt is to shift the paradigm of the social networking from the online communication to the real one. The project is intended to boost the real-life interaction, using the Internet but not merely attract more audience into the meshes of yet another social media.

About Project
iOS
PLATFORM
Germany
COUNTRY
Social Network
INDUSTRY
8 months
PROJECT DURATION
5 Members
SIZE OF TEAM
2017
COMPLETED
Technologies & Tools

PHP
Laravel
Lumen

Kotlin Java

NodeJS

RXJava

Realm
AWS
Swift

Redis

PostgreSQL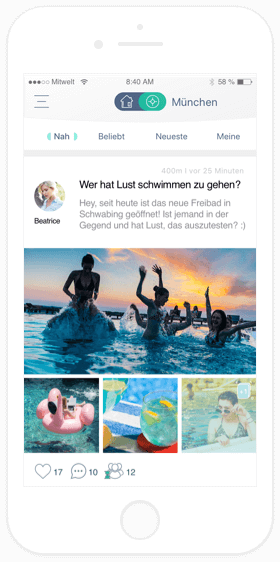 Challenges and Objectives
The team desired to establish a strong connection with the customer and create the atmosphere of mutual understanding and sympathy. It was important for the project as its main aim is to boost live human interaction. Therefore, the visit to Munich was a first significant step in the process of development, which helped to shape the exact vision of the project. In order to achieve flawless performance in terms of speed, the team decided to use AWS and CoreData.
Results
Mitwelt was successfully released in 2017 and quickly gained in popularity. Despite its relatively small PR company and narrow targeting as for social media, the application was downloaded 2 thousand times and reached a thousand of active users in a month. The users received a convenient tool, which helps to navigate in the fast-paced society. Mitwelt uses GPS to determine user's location so he or she can.
Find out what's happening around.

Share news and photos with surroundings.

Sort the posts in the feed by proximity, popularity, and timelines.

Get in touch with people from the user's neighborhood or current location.

Use comments or private chat to arrange meetings.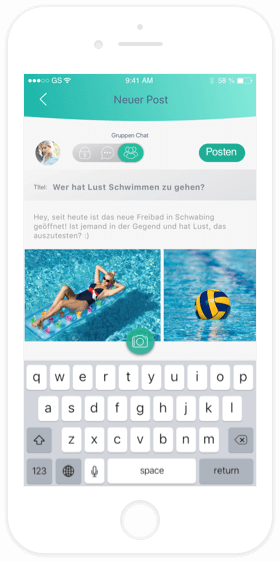 Review more our projects in Social Network industry
Contact Us
Contact Information

Lviv
79018 45 Oleny Stepanivny Str.
info@kindgeek.com
+380974652244

London