NutriBox
Nutritional mobile app
Nowadays it is hard to find some place to eat good food and stay sure that this one is healthy. Fast food, longterm expiration date, products with GMO is all around. So we found a way to the rescue - we created a mobile application so you can find healthy meals in restaurants.

About Project
iOS
PLATFORM
Kuwait
COUNTRY
HealthCare
INDUSTRY
5 month
PROJECT DURATION
6 Members
SIZE OF TEAM
2017
COMPLETED
Technologies & Tools

Objective C

Xcode

Sketch

Zeplin

Invision
Challenges and Objectives
On our way to achieve the goals and to realise technical and design ideas we have done the next:
Sprint Planning Call Meetings.

Business analysis.

Project Management.

Designing and UX planning.
Results
In the development process KindGeek team reached this functionality:
Autorization ( + via FB)

Search for healthy food through 3 filters (type of dishes, cuisine, healthy food categories).

Including the personal information in a search ( allergies, medical conditions, food likes/dislikes).

list of Favourite places and food - Arabic localization (LP, AP, App).

A map to find the places.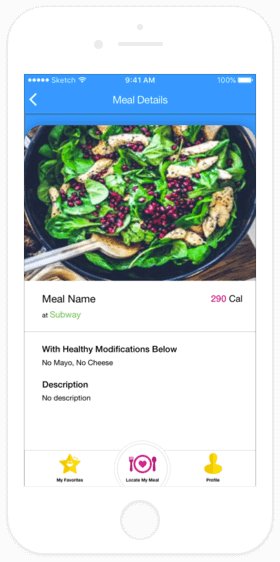 Review more our projects in HealthCare industry
Contact Us
Contact Information

Lviv
79018 45 Oleny Stepanivny Str.
info@kindgeek.com
+380974652244

London