WineApp
A Wine Recommendation App
Nothing beats a glass of nice wine. However, choosing the quality wine that will satisfy your taste is quite a challenge. WineApp makes the challenge easier providing a simple yet effective solution that allows a user to purchase wine from custom selections recommended by sommeliers.
About Project
iOS, Android
PLATFORM
Germany
COUNTRY
Retail
INDUSTRY
In Progress
PROJECT DURATION
4 Members
SIZE OF TEAM
In Progress
COMPLETED
Technologies & Tools

Android Studio

Java
Swift

Javascript

React JS
Postman

Pupet

Git

Sketch

Zeplin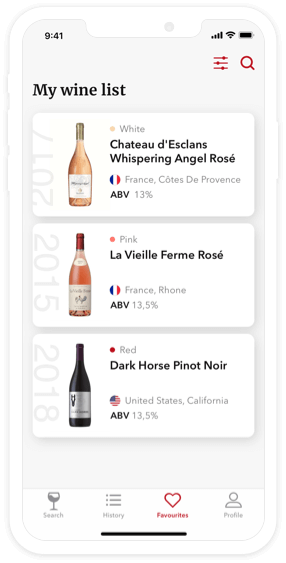 Challenges and Objectives
The majority of the functionality of the app wasn't difficult to develop considering the experience of our seasoned developers. Nonetheless, we had to slightly sweat over major design decisions and overall recommendations functionality to ensure pleasant and effortless feel and that users would like to come back to using WineApp again and again.
Results
Neat iOS and Android apps that help a user to find suitable wine based on generated recommendations that will add some pleasant tart vibes to their leisure. On the production side, the apps provide the possibility to
Pay attention to possible Recommendation changes

Find out if the purchase actually has happened

Gather feedback

Save user selections. Use it to display later, or to adjust recommendations in the future
Review more our projects in Retail industry
Contact Us
Contact Information

Lviv
79018 45 Oleny Stepanivny Str.
info@kindgeek.com
+380974652244

London